Our Client's Say it Best...
First class business service
First class business. Service, quality and pricing beat Alphagraphics or FedExKinkos. I was assembling content for a 175 person conference. They called to tell me I added the same page twice to a 68 page PDF file. And when I had trouble fixing it, they fixed it for me! This store is absolutely committed to the quality of their work. Everything was done on time, stapled and packaged as requested.
Five stars across the board
Five stars across the board for this business! I found out last minute that I had 4 interviews, the next day, I contacted Promenade to help me with copies of my resume, cover letter and business cards, and Terry stayed nearly 2 hours past closing to make sure everything was perfect. She was so sweet and incredibly helpful.
I will ALWAYS come here in the future for any printing needs, and you should too! I can't speak highly enough of this place! 

Thank you for everything!!
Homeowner's Association
I have been working with Promenade Printing for over 6 years. They have been extremely reliable, dependable, and professional. Promenade has always bent over backwards to perform and always deliver on a timely basis with a high quality product.
I would recommend them to anyone with the confidence that they would be extremely satisfied with their service and printing quality.
Long time satisfied customer...
Five stars! Promenade Printing is the best printer I've ever used. They're reliable, knowledgeable and do a beautiful job. But then they take it even a step further... the friendliness and enthusiasm of the staff put them head and shoulders over other printers.
First-rate operation, run by people who care.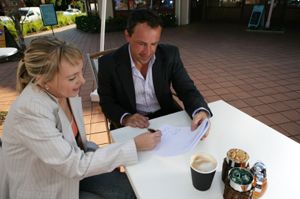 Faculty Women's Club
Promenade Printing is wonderful. For ten years, I have used them for 5 large printings a year. The work is always perfect and on time. When I have created my own problems, the owner Terry always calms me and makes adjustments as needed.
It is a relief to know that everything will turn out fine!
Small Business - Holly's Hodgepodge
I have used Promenade Printing for at least 10 years for all my products and business printing. I design and sell notepads, placemats, and bookmarks and they print everything and make all my pads. They pay attention to details and are always willing to do everything possible to get the job done in a very timely fashion with no issues. Tom and Terry (owners) are easy to work with and very conscientious to satisfy their customers completely.
I have never been disappointed and would recommend them to anyone! One satisfied customer here!
Between The Sheets
Promenade Printing is a great resource for the Richardson area! My small business has been using them for over 3 years and what a fantastic shop they have. Their employees are knowledgeable and savvy in printing and bindery, in addition to professional and fun to work with. I know when I take my work to Promenade Printing they will get it done in a timely manner and with an attention to detail.
Strongly recommend them!
Newly Married Couple...
I recently used Promenade Printing in Dallas, TX to print all of the collateral surrounding my wedding, They printed my save-the-dates, invitations, programs, custom wine labels, and stickers I used at the reception.
From the minute I called Terry McDowell (one of the owners) to ask if she could help me, to when I sent them my design files, to the time I received the actual pieces, I felt at ease. I'm a art director by trade, so of course I was going to be picky with the outcome since I spent so much of my own time making the design perfect. I was very pleased that I was able to pick out my own high quality paper from their stock, use their top of the line printer, and have the final copies delivered to my office. The outcome was beautiful - not only in my eyes, but my fiance's as well (which we all know is more important).
I would highly recommend using Promenade Printing to anyone. I know weddings isn't their main source of business, but they made me feel like it was the way they handled the job. My experience made me feel like they would do just about any odd job with the care and precision.
I'll definitely be using them again the next time I need a printer.